Vision X XPI Series LED Lightbars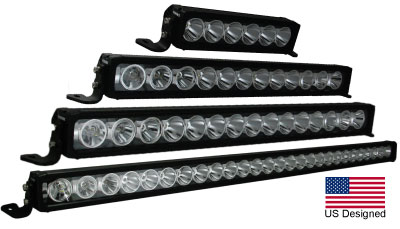 Vision X XPI series LED lightbars are available through specialist distributors in the Middle East, North Africa and the Indian subcontinent. Contact merchlin for your nearest distributor or for distributor enquiries.
The XPI Series
The XPI Series Light Bar utilizes proprietary IRIS reflector technology to achieve unprecedented distance. Dual mounting options come standard: patented mounting feet and end mounting brackets inrease versatlity. Be ready to turn the night into day with the XPI Series.
The following video from Vision X showcases the XPI mounting and other features.

XPI Lightbars Offer Affordable, US Designed Quality
The real value of a product comes from their reliability, performance and price. Vision X's XPI series provides the reliability and performance you expect from US designed equipment and matches that with affordable pricing to ensure they can outcompete lower quality, less reliable lightbar copies.
Key Features
Dual Mounting Options Standard (patented feet mount or end mount)
Proprietary IRIS Reflector Technology Featuring Tilting Reflectors
Tilting Reflectors Provide MixedCombo Beam Spread
Xtreme Five Watt LED is Driven to 90% Efficiency
IP 68 rated
The XPI Series in Action
Here is the XPI-27M series in action.
Dual Mounting
Dual mounting solutions allow for end mounting or bottom mounting using Vision X patented mounting feet technology. No matter where you need light, the XPI Series is the right solution.
XPI LED Lightbar Size Chart
| | | |
| --- | --- | --- |
| Width | LEDs | Part Code |
|  11″ |  6 |  XPI-6 |
| 24″ | 12 | XPI-12M |
| 29″ | 15 | XPI-15M |
| 35″ | 18 | XPI-18M |
| 40″ | 21 | XPI-21M |
| 45″ | 24 | XPI-24M |
| 51″ | 27 | XPI-27M |
This entry was posted in News, Vision X and tagged LED Lighting on .