Vision X Duralux Series LED Worklights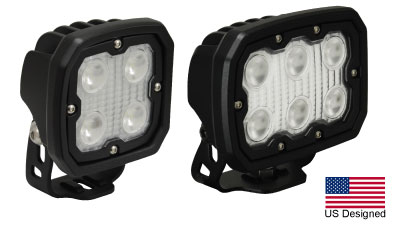 Vision X Duralux series LED worklights are available through specialist distributors in the Middle East, North Africa and the Indian subcontinent. Contact merchlin for your nearest distributor, or for distributor enquiries.
The Duralux Series
The Duralux series LED worklights utilizes 5 Watt LEDs for combined distance and intensity.
Outmatches Halogen for Output and Lifespan
The Duralux Series has a high light output, witht he 4xLED 20Watt version outshining 100 Watt halogen fixtures and outlasting them with a lifespan of 50,000 hours.
With a Die-Cast Aluminium housing, weatherproof professional-grade Deutsch Connector, and E-Mark Approval on the 4 LED Model, the Duralux Lighting Series is up to any heavy duty task in any environment.
Duralux LED Worklights Offer Affordable, US Designed Quality
The real value of a product comes from their reliability, performance and price. Especially when it comes to worklights, where downtime costs money. Vision X's Duralux series provides the reliability and performance you expect from US designed equipment and matches that with affordable pricing to ensure they will always outcompete lower quality, less reliable worklight copies.
Key Features
5 Watt Xtreme LED Lighting
Effective Light for Commercial Applications
Die-Cast Aluminium Housing
Low Power Consumption
Outperforms 100 Watt Halogen Lighting
IP 68 rated
Duralux LED Worklight Size Chart
| | | |
| --- | --- | --- |
| Light Pattern | LEDs | Part Code |
|  40 degree |  4 |  DURA-440 |
| 60 degree | 4 | DURA-460 |
| 90 degree | 4 | DURA-e490 |
| 40 degree | 6 | DURA-640 |
| 90 degree | 6 | DURA-660 |
This entry was posted in News, Vision X and tagged LED Lighting on .