LAP Emergency Beacons Now Certified R65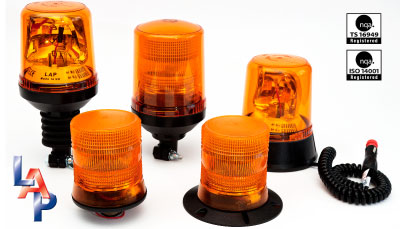 LAP Electrical's R65 certified direct drive rotating, LED and Xenon beacons and strobes  are available through specialist distributors in the Middle East, North Africa and the Indian subcontinent. Contact merchlin for your nearest distributor, or for distributor enquiries.
A Comprehensive Range of R65 Certified Emergency Beacons
UN ECE Regulation 65 (R65) covers the accreditation requirements for special warning (safety, emergency) lamps used on vehicles and is managed by the UN ECE Transport Division. It covers the labelling, light output (intensity and dispersion), flash rate and colour for beacons, light bars and directional lights.
LAP Electrical's 25 years experience and their Quality Assured UK-based manufacturing facilities have allowed them to achieve R65 certification for the vast majority of their emergency lighting range that encompass the following safety beacon types:
Direct drive rotating range
High power Xenon range
Standard Xenon range
Compact Xenon range
LED R65 range
Compact/Mini Lightbar range
Key Features
Direct drive rotating, not belt driven, for greater lifespan and reliability
Single Point, 3 Point, Magnetic, DIN & Flexi DIN models
ECE R10 EMC Approved
12V or Dual Voltage (12/24V) options
ECE R65 Approved Performance
Reverse Polarity Protection
-30ºC to +50ºC extreme temperature reliability
70 mph rated magnetic versions
LAP Electrical's R65 Certified Beacon Catalogue
Use the following interactive catalogue to find out more about the LAP Electrical range of direct drive, LED and Xenon beacons available.

This entry was posted in LAP Electrical, News and tagged beacons, emergency lighting on .