Portable Emergency Scene Lighting – Now on Sale!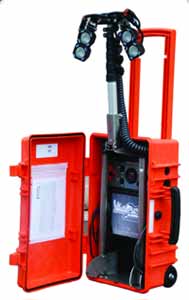 Vision X XLS Incident Response Case is now available for a short time at special promotion prices. Fantastic discounts available on 1 buy, 5 buy and 10 buy quantities. Up to $100 off per case.
Vision X's XLS Incident Response Case provides emergency lighting that can be deployed in under 30 seconds and lasts for up to 8.5 hours. Safety is a priority on every work site regardless of the industry, and the XLS Incident Response case is a reliable tool that should be part of every work site.
Contact merchlin now to confirm your special pricing!
---
Vision X XLS Incident Response Case Features
Fast deployment: have it up and running in under 30 seconds

Long lasting: Up to 8.5 hours of light from one charge. Easily recharge using a 220V AC charger, cigarette lighter outlet, or standard jumper cables

Self-contained power cell: The built in battery ensures it is easier than ever to respond quickly without multiple components and parts

To view the full list of specification click here.
Get in contact with a merchlin representative today to secure the best price!
This entry was posted in News, Vision X on .