V-Series Rotary Now Available with Additional Circuits
The V-Series Contura Rotary Switch was designed for maximum performance and reliability leveraging the features of the widely popular V-series Contura Rocker Switches. It now offers additional circuits to make it even more versatile.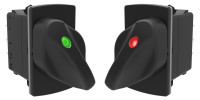 Available in maintained and momentary circuit options, the V-Series Rotary features a sturdy knob construction, up to three separate LEDs, and fits in an industry standard panel opening.
AVAILABLE CIRCUITS
on-none-off
(on)-none-off
on-none-(off) *
on-none-on
on-off-on
(on)-off-(on)
(on)-off-on*
Special Circuits:*
Maintained & Momentary Starter Circuits
Low/Medium/High Speed Control Circuits
* New Circuits
Internally, the V-Series Contura Rotary uses a patented mechanism that translates rotary to linear motion. This allows for common switch functionality and terminal connections with the V-Series rocker version and requires no harness change. A secondary CAM, which helps drive the mechanism, provides definitive detent positions and prevents the switch from stopping between positions, while improving tactile feel.
The V-Series Rotary also features an innovative PC board that supports the LED and surface mount resistors; and IP67 sealing protection above panel by utilizing LED and actuator stem seals. Together, these features make the V-Series Contura Rotary switch the best choice available in the market today.
Find Out More
Click here to find out more about the V-Series Rotary switches at Carling Technologies.
Find a Distributor, Request a Quote
Contact merchlin now to find a Carling Technologies distributor in the Middle East and Africa, or to get a quote on the V-Series rotary switches.

This entry was posted in Carling Technologies, News on .